Which Huku is best for me?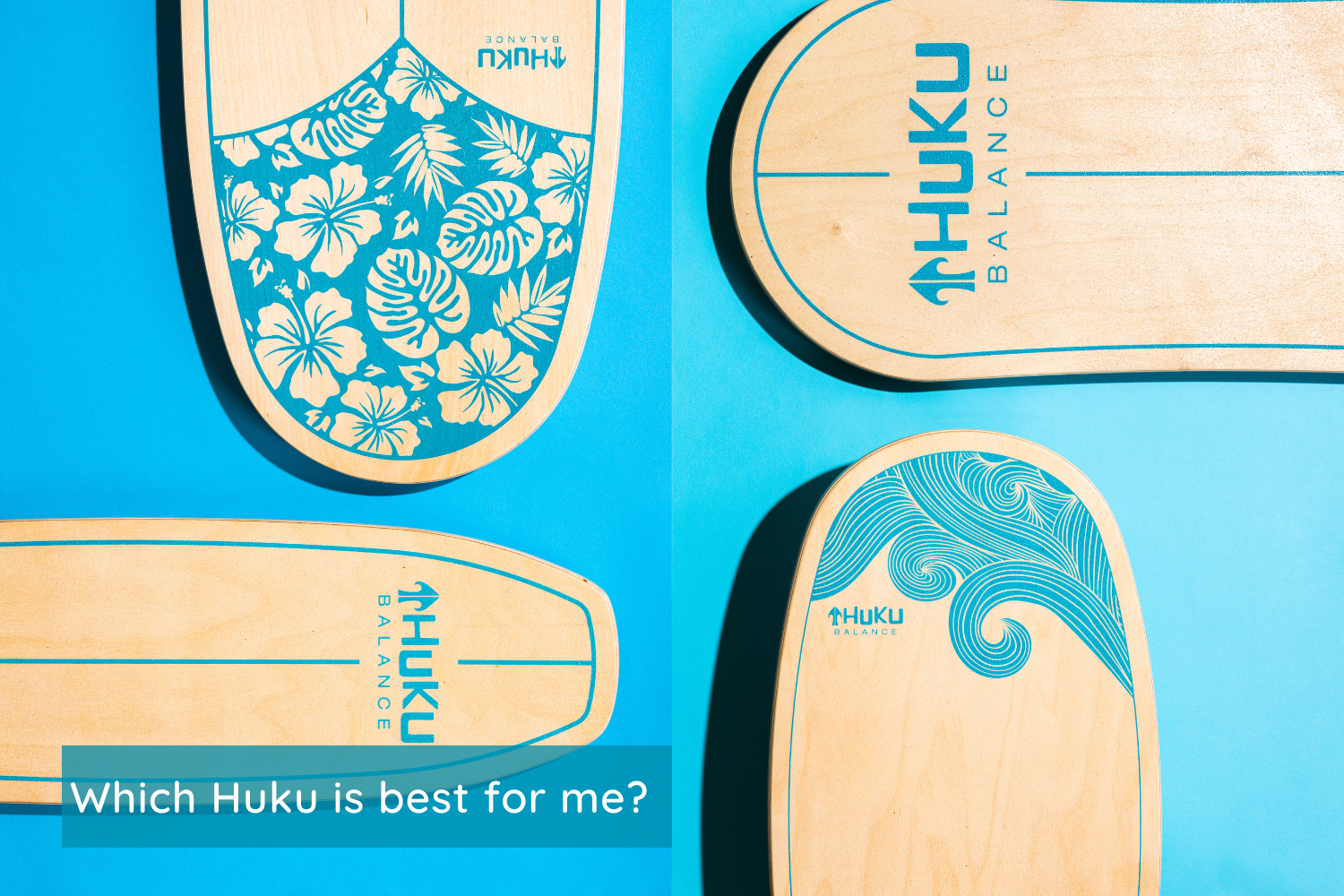 Which board is best for beginners?
We recommend the Huku Lár or the Huku Corefit for beginners, depending on their goals. The Huku Corefit is an excellent way to get started with balance training. The narrower deck allows you to focus more on the basic balance board movements. The roller is also smaller, meaning that the board is closer to the ground, making it easier for you to get started. 
The Lár Wobble Board is also a suitable option for beginners. It is less challenging than the Huku Original or Corefit as it has a built-in dome-shaped centre at the bottom rather than a roller. You can adapt various exercises to the board such as squats, pushups, and planks, helping keep your workouts fun and exciting!
Which is the best board for those with basic balance/core strength?
The Huku Original is the best board for intermediates and those with basic balance and core strength. It has a wider board and larger roller than the Corefit, making it more challenging to stay balanced as the board is higher from the ground. The wider board also gives you more freedom in movement. The Huku Original is the perfect way to enhance your regular workouts. It's great for trying out new tricks too!
The Original is also an excellent choice for athletes who want to improve their mobility, coordination and core strength. Improving these skills will help boost performance in your chosen sport. 
What board do you recommend for boardsport practitioners? 
The Huku Nalu is the perfect board for you. We designed the Huku Nalu with boardsport practitioners in mind. The Nalu is a rail-to-rail balance board that simulates the feel of surfing and snowboarding. It is great for improving balance, mobility, and cross-stepping movements for surfers, snowboarders and all board riders that use a heel-to-toe movement.
We recommend the Nalu Combo as it provides both a Nalu Roller and an Original Roller. This allows for movement both ways giving you the best of both worlds.
Can I use a balance board at a standing desk? 
The Huku Lár can be used at a standing desk, allowing you to improve your balance and posture while working. Prolonged sitting or standing in one spot for too long can have a negative impact on your posture. Using the Lár at your standing desk or whenever you find time throughout the day is a great way to help improve your posture and reduce the aches and pains associated with poor postural alignment. It also helps increase blood flow through keeping you alert and avoiding the 3 pm slump!
Are balance boards suitable for kids? 
Of course, the Huku Ulu Balance Board is our specialised balance board product for children aged 6 and up. This Balance Board includes an integrated puzzle game built-in to the deck. Your kids will improve their balance while playing a fun game at the same time. The Ulu also helps build motor skills and coordination which will improve their everyday life and enhance athletic performance. The kids can get their friends over and have a contest to see who can complete the puzzle game in the fastest time!
Which Board is best for injury rehabilitation/prevention?
The Huku Lár is the best choice for those looking to rehab injuries or prevent future injuries. It helps build strength in crucial and often neglected muscles, joints, tendons, and ligaments. Strengthening these muscles will help stabilise the body for correct alignment. It is ideal for rehabbing the knees, ankles and hips. Always consult your physical therapist for a proper rehabilitation programme.
---